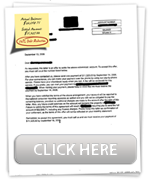 A Sample of Success
Check out a sample debt settlement letter by clicking the thumbnail image on the right. This is just an example of what a real life settlement letter looks like. Clients who successfully complete our Debt Resolution Program can expect to get similar ones.
Take a look at some of the top settlements we've listed below. These top settlements showcase how much some of our clients have saved with Debtmerica Relief!* Settlement examples are a result of creditor negotiations made by Freedom Financial Network or affiliated companies.
---

Examples include top settlements achieved by our service providers and are not indicative of typical results.
| | | | | | |
| --- | --- | --- | --- | --- | --- |
|  Enrolled Debt | Settlement Amount | Percentage Paid by Consumer | Percentage Paid with Fee | Percentage Debt Reduction | Type of Debt |
| $8,487.00 | $848.71 | 10.00% | 31.00% | 69.00% | CC |
| $32,190.00 | $9,600.00 | 29.82% | 46.82% | 53.18% | CC |
| $35,459.00 | $11,600.00 | 32.71% | 47.71% | 52.29% | CC |
| $24,401.00 | $6,437.08 | 26.38% | 41.38% | 58.62% | CC |
| $10,446.00 | $2,156.96 | 20.65% | 35.65% | 64.35% | CC |
| | | | | | |
| --- | --- | --- | --- | --- | --- |
|  Enrolled Debt | Settlement Amount | Percentage Paid by Consumer | Percentage Paid with Fee | Percentage Debt Reduction | Type of Debt |
| $8,665.00 | $1,124.00 | 12.97% | 27.97% | 72.03% | CC |
| $13,800.00 | $3,200.00 | 23.19% | 38.19% | 61.81% | CC |
| $3,620.43 | $1,175.00 | 32.45% | 47.45% | 52.55% | CC |
| $15,579.00 | $2,157.00 | 13.85% | 34.14% | 65.86% | CC |
| $24,202.00 | $9,368.34 | 38.71% | 59.71% | 40.29% | CC |
| | | | | | |
| --- | --- | --- | --- | --- | --- |
|  Enrolled Debt | Settlement Amount | Percentage Paid by Consumer | Percentage Paid with Fee | Percentage Debt Reduction | Type of Debt |
| $4,141.00 | $881.60 | 21.29% | 39.29% | 60.71% | CC |
| $10,363.00 | $2,792.00 | 26.94% | 44.94% | 55.06% | CC |
| $26,654.00 | $6,664.00 | 25.00% | 46.00% | 54.00% | CC |
| $26,780.00 | $6,234.01 | 23.28% | 38.28% | 61.72% | CC |
| $32,900.00 | $6,132.41 | 18.64% | 33.64% | 66.36% | CC |
| | | | | | |
| --- | --- | --- | --- | --- | --- |
|  Enrolled Debt | Settlement Amount | Percentage Paid by Consumer | Percentage Paid with Fee | Percentage Debt Reduction | Type of Debt |
| $13,349.00 | $3,196.00 | 23.94% | 40.94% | 59.06% | CC |
| $15,037.00 | $3,760.00 | 25.00% | 40.00% | 60.00% | CC |
| $20,406.00 | $4,730.90 | 23.18% | 44.14% | 55.86% | CC |
| $17,689.00 | $5,166.00 | 29.20% | 44.20% | 55.80% | CC |
| $9,049.00 | $2,070.00 | 22.88% | 37.88% | 62.12% | CC |
| | | | | | |
| --- | --- | --- | --- | --- | --- |
|  Enrolled Debt | Settlement Amount | Percentage Paid by Consumer | Percentage Paid with Fee | Percentage Debt Reduction | Type of Debt |
| $10,909.00 | $700.00 | 6.42% | 21.42% | 78.58% | CC |
| $8,541.00 | $1,788.00 | 20.93% | 43.93% | 56.07% | CC |
| $3,527.00 | $839.95 | 23.81% | 44.81% | 55.19% | CC |
| $8,542.00 | $2,435.04 | 28.51% | 43.51% | 56.49% | CC |
| $29,846.00 | $9,197.00 | 30.81% | 51.81% | 48.19% | CC |
| | | | | | |
| --- | --- | --- | --- | --- | --- |
|  Enrolled Debt | Settlement Amount | Percentage Paid by Consumer | Percentage Paid with Fee | Percentage Debt Reduction | Type of Debt |
| $6,284.00 | $1,700.00 | 27.05% | 42.05% | 57.95% | CC |
| $19,654.00 | $4,511.76 | 22.95% | 37.95% | 62.05% | CC |
| $7,417.00 | $1,633.23 | 22.02% | 43.02% | 56.98% | CC |
| $13,779.00 | $212.47 | 1.54% | 16.54% | 83.46% | CC |
| $4,229.00 | $568.00 | 13.43% | 34.43% | 65.57% | CC |
 Enrolled Debt
Settlement Amount
Percentage Paid by Consumer
Percentage Paid with Fee
Percentage Debt
Reduction
Type of Debt
$15,880.00
$   800.00
  5.04%
23.04%
76.96%
CC
$14,002.00
$1,571.99
11.23%
26.23%
73.77%
CC
$  5,445.00
$1,129.40
20.74%
35.74%
64.26%
CC
$21,965.00
$5,008.00
22.80%
37.80%
62.20%
CC
$20,190.00
$4,039.00
20.00%
41.00%
59.00%
CC
 Enrolled Debt
Settlement Amount
Percentage Paid by Consumer
Percentage Paid with Fee
Percentage Debt
Reduction
Type of Debt
$ 9,500.00
$   697.00
  7.34%
22.34%
77.66%
CC
$51,700.00
$12,278.64
23.75%
38.75%
61.25%
CC
$41,818.00
$10,800.00
25.83%
40.83%
59.17%
CC
$ 7,795.17
$1,560.06
20.01%
41.01%
51.72%
CC
$13,368.00
$3,647.00
27.28%
48.28%
51.72%
CC
 Enrolled Debt
Settlement Amount
Percentage Paid by Consumer
Percentage Paid with Fee
Percentage Debt
Reduction
Type of Debt
$14,957.00
$1,530.00
10.48%
25.48%
74.52%
CC
$  5,397.00
$   917.00
16.99%
31.99%
68.01%
CC
$25,937.00
$4,528.12
17.46%
32.46%
67.54%
CC
$19,902.00
$5,206.44
26.16%
41.16%
58.84%
CC
$52,048.00
$20,000.00
38.43%
53.43%
46.57%
CC
 Enrolled Debt
Settlement Amount
Percentage Paid by Consumer
Percentage Paid with Fee
Percentage Debt
Reduction
Type of Debt
$  1,604.00
$   167.70
10.46%
25.46%
74.54%
CC
$14,430.00
$2,317.00
16.06%
31.06%
68.94%
CC
$26,149.00
$4,656.00
17.81%
32.81%
67.19%
CC
$32,324.00
$7,297.14
22.57%
37.57%
62.43%
CC
$49,303.00
$13,074.00
26.52%
41.52%
58.48%
CC
 Enrolled Debt
Settlement Amount
Percentage Paid by Consumer
Percentage Paid with Fee
Percentage Debt
Reduction
Type of Debt
$  1,974.00
$   228.70
11.59%
26.59%
73.41%
CC
$16,011.00
$2,732.00
17.06%
32.06%
67.94%
CC
$28,658.00
$6,075.00
21.20%
36.20%
63.80%
CC
$  6,204.00
$1,500.00
24.18%
39.18%
60.82%
CC
$52,512.00
$17,660.00
33.63%
48.63%
51.37%
CC
 Enrolled Debt
Settlement Amount
Percentage Paid by Consumer
Percentage Paid with Fee
Percentage Debt
Reduction
Type of Debt
$35,225.00
$5,360.00
15.22%
30.22%
69.78%
CC
$  6,776.00
$1,250.00
18.45%
33.45%
66.55%
CC
$60,700.00
$12,000.00
19.77%
34.77%
65.23%
CC
$23,600.00
$5,340.00
22.63%
37.63%
62.37%
CC
$  6,919.00
$2,170.00
31.36%
46.36%
53.64%
CC
 Enrolled Debt
Settlement Amount
Percentage Paid by Consumer
Percentage Paid with Fee
Percentage Debt
Reduction
Type of Debt
$  2,955.00
$   300.00
10.15%
25.15%
74.85%
CC
$27,704.00
$5,381.00
19.42%
34.42%
65.58%
CC
$  8,921.00
$1,754.00
19.66%
34.66%
65.34%
CC
$17,279.00
$4,251.00
24.60%
39.60%
60.40%
CC
$49,300.00
$15,000.00
30.43%
45.43%
54.57%
CC
 Enrolled Debt
Settlement Amount
Percentage Paid by Consumer
Percentage Paid with Fee
Percentage Debt
Reduction
Type of Debt
$15,002.00
$1,524.00
10.16%
25.16%
74.84%
CC
$  6,546.00
$   759.00
11.59%
26.59%
73.41%
CC
$42,841.00
$8,168.00
19.07%
34.07%
65.93%
CC
$16,121.00
$3,438.00
21.33%
36.33%
63.67%
CC
$81,371.00
$28,415.00
34.92%
49.92%
50.08%
CC
 Enrolled Debt
Settlement Amount
Percentage Paid by Consumer
Percentage Paid with Fee
Percentage Debt
Reduction
Type of Debt
$20,551.81
$5,653.00
27.51%
42.51%
57.49%
CC
$11,356.66
$3,407.00
30.00%
45.00%
55.00%
CC
$  2,097.80
$   248.90
11.86%
26.86%
73.14%
CC
$  3,028.36
$   605.67
20.00%
35.00%
65.00%
CC
$  4,567.75
$1,142.00
25.00%
40.00%
60.00%
CC
 Enrolled Debt
Settlement Amount
Percentage Paid by Consumer
Percentage Paid with Fee
Percentage Debt
Reduction
Type of Debt
$22,542.24
$2,300.00
10.20%
25.20%
74.80%
CC
$12,011.82
$1,410.62
11.74%
26.74%
73.26%
CC
$  7,333.64
$1,034.00
14.10%
29.10%
70.90%
CC
$36,631.53
$5,494.73
15.00%
30.00%
70.00%
CC
$19,420.78
$8,739.35
45.00%
60.00%
40.00%
loan
 Enrolled Debt
Settlement Amount
Percentage Paid by Consumer
Percentage Paid with Fee
Percentage Debt
Reduction
Type of Debt
$28,848.80
$2,818.85
11.82%
26.82%
73.18%
CC
$11,674.96
$1,500.00
12.85%
27.85%
72.15%
CC
$15,484.77
$2,163.00
13.97%
28.97%
71.03%
CC
$  4,694.21
$   704.13
15.00%
30.00%
70.00%
CC
$33,446.31
$5,017.00
15.00%
30.00%
70.00%
CC
 Enrolled Debt
Settlement Amount
Percentage Paid by Consumer
Percentage Paid with Fee
Percentage Debt
Reduction
Type of Debt
$15,046.11
$1,505.00
10.00%
25.00%
75.00%
CC
$  7,863.13
$   786.32
10.00%
25.00%
75.00%
CC
$  5,664.34
$   566.43
10.00%
25.00%
75.00%
CC
$10,121.42
$1,013.00
10.01%
25.01%
74.99%
CC
$12,393.47
$1,240.00
10.01%
25.01%
74.99%
CC
 Enrolled Debt
Settlement Amount
Percentage Paid by Consumer
Percentage Paid with Fee
Percentage Debt
Reduction
Type of Debt
$  2,663.95
$   267.00
10.02%
25.02%
74.98%
CC
$  3,665.95
$   407.33
11.11%
26.11%
73.89%
CC
$  9,860.66
$1,400.00
14.20%
29.20%
70.80%
CC
$15,215.41
$2,282.00
15.00%
30.00%
70.00%
CC
$18,134.64
$2,720.00
15.00%
30.00%
70.00%
CC
 Enrolled Debt
Settlement Amount
Percentage Paid by Consumer
Percentage Paid with Fee
Percentage Debt
Reduction
Type of Debt
$15,577.48
$1,400.00
  8.99%
23.99%
76.01%
CC
$  8,367.62
$   837.00
10.00%
25.00%
75.00%
CC
$12,119.44
$1,212.00
10.00%
25.00%
75.00%
CC
$  8,607.68
$   861.00
10.00%
25.00%
75.00%
CC
$11,603.25
$1,160.63
10.00%
25.00%
75.00%
CC
 Enrolled Debt
Settlement Amount
Percentage Paid by Consumer
Percentage Paid with Fee
Percentage Debt
Reduction
Type of Debt
$26,725.01
$2,299.00
  8.60%
23.60%
76.40%
CC
$24,571.24
$2,300.00
  9.36%
24.36%
75.64%
CC
$10,277.41
$1,000.00
  9.73%
24.73%
75.27%
CC
$42,230.30
$4,225.00
10.00%
25.00%
75.00%
CC
$  2,544.68
$   254.47
10.00%
25.00%
75.00%
CC
 Enrolled Debt
Settlement Amount
Percentage Paid by Consumer
Percentage Paid with Fee
Percentage Debt
Reduction
Type of Debt
$12,270.68
$1,140.00
  9.29%
24.29%
75.71%
CC
$  5,120.00
$   512.00
10.00%
25.00%
75.00%
CC
$20,741.98
$2,074.20
10.00%
25.00%
75.00%
CC
$20,896.73
$2,100.00
10.05%
25.05%
74.95%
CC
$  8,894.16
$   936.00
10.52%
25.52%
74.48%
CC
 Enrolled Debt
Settlement Amount
Percentage Paid by Consumer
Percentage Paid with Fee
Percentage Debt
Reduction
Type of Debt
$11,838.44
$   896.00
  7.57%
22.57%
77.43%
CC
$19,927.00
$1,521.00
  7.63%
22.63%
77.37%
CC
$20,387.23
$1,779.00
  8.73%
23.73%
76.27%
CC
$  6,933.99
$   620.00
  8.94%
23.94%
76.06%
CC
$21,616.65
$2,000.00
  9.25%
24.25%
75.75%
CC
 Enrolled Debt
Settlement Amount
Percentage Paid by Consumer
Percentage Paid with Fee
Percentage Debt
Reduction
Type of Debt
$11,685.96
$   744.00
  6.37%
21.37%
78.63%
CC
$17,402.25
$1,659.00
  9.53%
24.53%
75.47%
CC
$  6,627.29
$   661.00
  9.97%
24.97%
75.03%
CC
$  9,801.25
$   980.00
10.00%
25.00%
75.00%
CC
$12,292.03
$1,230.00
10.01%
25.01%
74.99%
CC
 Enrolled Debt
Settlement Amount
Percentage Paid by Consumer
Percentage Paid with Fee
Percentage Debt
Reduction
Type of Debt
$20,433.19
$1,170.00
  5.73%
20.73%
79.27%
CC
$14,927.25
$1,045.00
  7.00%
22.00%
78.00%
CC
$  7,808.64
$   650.00
  8.32%
23.32%
76.68%
CC
$20,264.30
$2,027.00
10.00%
25.00%
75.00%
CC
$  5,651.69
$   565.17
10.00%
25.00%
75.00%
CC
 Enrolled Debt
Settlement Amount
Percentage Paid by Consumer
Percentage Paid with Fee
Percentage Debt
Reduction
Type of Debt
$  2,239.73
$   169.40
  7.56%
22.56%
77.44%
CC
$  2,267.39
$   182.55
  8.05%
23.05%
76.95%
CC
$19,071.88
$1,560.00
  8.18%
23.18%
76.82%
line
$  5,416.38
$   450.00
  8.31%
23.31%
76.69%
CC
$  6,224.07
$   591.00
  9.50%
24.50%
75.50%
CC
 Enrolled Debt
Settlement Amount
Percentage Paid by Consumer
Percentage Paid with Fee
Percentage Debt
Reduction
Type of Debt
$40,831.79
$3,273.00
  8.02%
23.02%
76.98%
CC
$  1,296.05
$   126.91
  9.79%
24.79%
75.21%
CC
$26,868.72
$2,685.00
  9.99%
24.99%
75.01%
CC
$12,959.85
$1,296.00
10.00%
25.00%
75.00%
CC
$  1,398.99
$   139.90
10.00%
25.00%
75.00%
CC
 Enrolled Debt
Settlement Amount
Percentage Paid by Consumer
Percentage Paid with Fee
Percentage Debt
Reduction
Type of Debt
$14,157.19
$1,400.00
  9.89%
24.89%
75.11%
CC
$11,233.82
$1,124.00
10.01%
25.01%
74.99%
CC
$12,258.10
$1,300.00
10.61%
25.61%
74.39%
CC
$20,499.04
$2,200.00
10.73%
25.73%
74.27%
CC
$11,499.22
$2,299.84
20.00%
35.00%
65.00%
line
 Enrolled Debt
Settlement Amount
Percentage Paid by Consumer
Percentage Paid with Fee
Percentage Debt
Reduction
Type of Debt
$  6,584.28
$   622.20
  9.45%
24.45%
75.55%
CC
$19,605.26
$2,000.00
10.20%
25.20%
74.80%
CC
$11,294.77
$1,309.00
11.59%
26.59%
73.41%
CC
$  5,567.88
$   724.00
13.00%
28.00%
72.00%
CC
$  7,545.52
$1,100.00
14.58%
29.58%
70.42%
line
 Enrolled Debt
Settlement Amount
Percentage Paid by Consumer
Percentage Paid with Fee
Percentage Debt
Reduction
Type of Debt
$14,212.26
$1,525.00
10.73%
25.73%
74.27%
CC
$  8,837.00
$   972.00
11.00%
26.00%
74.00%
CC
$  9,640.54
$1,100.00
11.41%
26.41%
73.59%
CC
$21,693.83
$2,500.00
11.52%
26.52%
73.48%
CC
$21,703.07
$2,600.00
11.98%
26.98%
73.02%
CC
 Enrolled Debt
Settlement Amount
Percentage Paid by Consumer
Percentage Paid with Fee
Percentage Debt
Reduction
Type of Debt
$11,613.68
$1,161.37
10.00%
25.00%
75.00%
CC
$10,997.00
$1,099.78
10.00%
25.00%
75.00%
CC
$11,960.18
$1,200.00
10.03%
25.03%
74.97%
CC
$48,412.70
$4,900.00
10.12%
25.12%
74.88%
CC
$13,575.83
$1,400.00
10.31%
25.31%
74.69%
CC
 Enrolled Debt
Settlement Amount
Percentage Paid by Consumer
Percentage Paid with Fee
Percentage Debt
Reduction
Type of Debt
$20,627.60
$1,900.00
 9.21%
24.21%
75.79%
CC
$33,191.00
$3,319.14
10.00%
25.00%
75.00%
CC
$  4,835.45
$   483.55
10.00%
25.00%
75.00%
CC
$  3,121.00
$   312.10
10.00%
25.00%
75.00%
CC
$21,275.09
$2,200.00
10.34%
25.34%
74.66%
CC
 Enrolled Debt
Settlement Amount
Percentage Paid by Consumer
Percentage Paid with Fee
Percentage Debt
Reduction
Type of Debt
$  1,570.16
$   170.30
10.85%
25.85%
74.15%
CC
$62,977.05
$7,000.00
11.12%
26.12%
73.88%
line
$31,365.82
$3,500.00
11.16%
26.16%
73.84%
CC
$49,313.99
$6,000.00
12.17%
27.17%
72.83%
CC
$40,916.96
$5,022.40
12.27%
27.27%
72.73%
CC
 Enrolled Debt
Settlement Amount
Percentage Paid by Consumer
Percentage Paid with Fee
Percentage Debt
Reduction
Type of Debt
$11,343.86
$1,134.38
10.00%
25.00%
75.00%
CC
$12,473.13
$1,248.00
10.01%
25.01%
74.99%
CC
$13,747.00
$1,445.00
10.51%
25.51%
74.49%
CC
$11,937.07
$1,320.00
11.06%
26.06%
73.94%
CC
$17,652.20
$2,000.00
11.33%
26.33%
73.67%
CC
 Enrolled Debt
Settlement Amount
Percentage Paid by Consumer
Percentage Paid with Fee
Percentage Debt
Reduction
Type of Debt
$20,657.02
$2,000.00
  9.68%
24.68%
75.32%
CC
$13,631.64
$1,363.17
10.00%
25.00%
75.00%
CC
$16,293.15
$1,650.00
10.13%
25.13%
74.87%
CC
$14,747.50
$1,505.00
10.21%
25.21%
74.79%
CC
$  5,498.53
$   980.00
17.82%
32.82%
67.18%
line
 Enrolled Debt
Settlement Amount
Percentage Paid by Consumer
Percentage Paid with Fee
Percentage Debt
Reduction
Type of Debt
$15,981.76
$1,500.00
  9.39%
24.39%
75.61%
CC
$12,862.07
$1,287.00
10.01%
25.01%
74.99%
CC
$  6,270.04
$   636.00
10.14%
25.14%
74.86%
CC
$11,730.87
$1,200.00
10.23%
25.23%
74.77%
CC
$23,016.74
$3,500.00
15.21%
30.21%
69.79%
line
 Enrolled Debt
Settlement Amount
Percentage Paid by Consumer
Percentage Paid with Fee
Percentage Debt
Reduction
Type of Debt
$11,718.41
$1,171.84
10.00%
25.00%
75.00%
CC
$27,750.35
$2,775.00
10.00%
25.00%
75.00%
CC
$13,840.68
$1,500.00
10.84%
25.84%
74.16%
CC
$10,793.23
$1,620.00
15.01%
30.01%
69.99%
CC
$12,196.98
$2,000.00
15.21%
30.21%
69.79%
line
 Enrolled Debt
Settlement Amount
Percentage Paid by Consumer
Percentage Paid with Fee
Percentage Debt
Reduction
Type of Debt
$19,621.87
$2,096.00
10.68%
25.68%
74.32%
CC
$26,871.89
$3,350.00
12.47%
27.47%
72.53%
CC
$15,149.11
$2,160.00
14.26%
29.26%
70.74%
CC
$16,729.54
$2,500.00
14.94%
29.94%
70.06%
line
$14,824.08
$2,223.61
15.00%
30.00%
70.00%
CC
 Enrolled Debt
Settlement Amount
Percentage Paid by Consumer
Percentage Paid with Fee
Percentage Debt
Reduction
Type of Debt
$19,440.58
$1,549.00
  7.97%
22.97%
77.03%
CC
$19,753.05
$2,000.00
10.13%
25.13%
74.87%
CC
$16,349.99
$1,700.00
10.40%
25.40%
74.60%
CC
$13,880.57
$1,500.00
10.81%
25.81%
74.19%
CC
$12,081.91
$1,700.00
14.07%
29.07%
70.93%
loan
 Enrolled Debt
Settlement Amount
Percentage Paid by Consumer
Percentage Paid with Fee
Percentage Debt
Reduction
Type of Debt
$  9,320.60
$1,145.00
12.28%
27.28%
72.72%
CC
$38,051.76
$5,024.00
13.20%
28.20%
71.80%
CC
$11,164.19
$1,550.00
13.88%
28.88%
71.12%
CC
$  2,810.86
$   400.00
14.23%
29.23%
70.77%
CC
$13,184.99
$1,980.00
15.02%
30.02%
69.98%
loan
 Enrolled Debt
Settlement Amount
Percentage Paid by Consumer
Percentage Paid with Fee
Percentage Debt
Reduction
Type of Debt
$23,287.04
$2,500.00
10.74%
25.74%
74.26%
CC
$  5,362.63
$   600.00
11.19%
26.19%
73.81%
Line
$  6,725.00
$   800.00
11.90%
26.90%
73.10%
CC
$  8,652.36
$1,263.00
14.60%
29.60%
70.40%
CC
$     688.26
$   103.00
14.97%
29.97%
70.03%
CC
 Enrolled Debt
Settlement Amount
Percentage Paid by Consumer
Percentage Paid with Fee
Percentage Debt
Reduction
Type of Debt
$  3,103.89
$   220.00
  7.09%
22.09%
77.91%
CC
$  4,868.25
$   609.00
12.51%
27.51%
72.49%
CC
$13,570.00
$1,715.00
12.64%
27.64%
72.36%
CC
$  1,898.30
$   261.00
13.75%
28.75%
71.25%
loan
$10,668.35
$1,620.00
15.16%
30.16%
69.84%
CC
 Enrolled Debt
Settlement Amount
Percentage Paid by Consumer
Percentage Paid with Fee
Percentage Debt
Reduction
Type of Debt
$11,535.59
$1,200.00
10.40%
25.40%
74.60%
CC
$18,357.23
$2,100.00
11.44%
26.44%
73.56%
loan
$  5,398.12
$   810.00
15.01%
30.01%
69.99%
loan
$13,316.31
$2,000.00
15.02%
30.02%
69.98%
CC
$  4,571.50
$   690.00
15.09%
30.09%
69.91%
CC
 Enrolled Debt
Settlement Amount
Percentage Paid by Consumer
Percentage Paid with Fee
Percentage Debt
Reduction
Type of Debt
$29,290.82
$3,000.00
10.24%
25.24%
74.76%
CC
$12,192.02
$1,584.00
12.99%
27.99%
72.01%
CC
$23,448.43
$3,278.00
13.98%
28.98%
71.02%
CC
$15,272.18
$2,300.00
15.06%
30.06%
69.94%
CC
$19,072.74
$2,900.00
15.20%
30.20%
69.80%
loan
 Enrolled Debt
Settlement Amount
Percentage Paid by Consumer
Percentage Paid with Fee
Percentage Debt
Reduction
Type of Debt
$27,391.65
$4,955.00
18.09%
33.09%
66.91%
CC
$17,070.80
$5,124.24
30.00%
45.00%
55.00%
CC
$26,589.31
$6,700.00
25.20%
40.20%
59.80%
loan
$11,943.12
$2,983.00
24.98%
39.98%
60.02%
CC
$11,131.88
$2,200.00
19.76%
34.76%
65.24%
CC
 Enrolled Debt
Settlement Amount
Percentage Paid by Consumer
Percentage Paid with Fee
Percentage Debt
Reduction
Type of Debt
$  8,822.43
$1,411.00
15.99%
30.99%
69.01%
line
$18,950.34
$3,800.00
20.05%
35.05%
64.95%
CC
$12,903.30
$2,700.00
20.92%
35.92%
64.08%
CC
$  1,563.90
$   350.00
22.38%
37.38%
62.62%
CC
$  5,770.41
$1,442.50
25.00%
40.00%
60.00%
loan
 Enrolled Debt
Settlement Amount
Percentage Paid by Consumer
Percentage Paid with Fee
Percentage Debt
Reduction
Type of Debt
$20,064.68
$3,010.00
15.00%
30.00%
70.00%
CC
$  6,731.17
$1,010.00
15.00%
30.00%
70.00%
loan
$13,113.60
$1,968.00
15.01%
30.01%
69.99%
CC
$  2,504.95
$   500.00
19.96%
34.96%
65.04%
loan
$19,660.98
$3,933.00
20.00%
35.00%
65.00%
CC
 Enrolled Debt
Settlement Amount
Percentage Paid by Consumer
Percentage Paid with Fee
Percentage Debt
Reduction
Type of Debt
$35,164.18
$4,216.00
11.99%
26.99%
73.01%
CC
$24,757.06
$4,000.00
16.16%
31.16%
68.84%
CC
$  2,778.11
$   474.35
17.07%
32.07%
67.93%
CC
$  6,962.11
$1,338.42
20.00%
35.00%
65.00%
line
$  7,673.29
$1,534.66
20.00%
35.00%
65.00%
loan
 Enrolled Debt
Settlement Amount
Percentage Paid by Consumer
Percentage Paid with Fee
Percentage Debt
Reduction
Type of Debt
$15,000.00
$2,200.00
14.67%
29.67%
70.33%
CC
$  6,675.95
$1,001.00
15.00%
30.00%
70.00%
line
$14,485.54
$2,200.00
15.19%
30.19%
69.81%
CC
$25,749.40
$4,700.00
18.25%
33.25%
66.75%
CC
$50,203.38
$9,801.00
19.52%
34.52%
65.48%
CC
 Enrolled Debt
Settlement Amount
Percentage Paid by Consumer
Percentage Paid with Fee
Percentage Debt
Reduction
Type of Debt
$ 32,346.91
$2,320.00
  7.17%
22.17%
77.83%
CC
$18,863.37
$3,000.00
15.90%
30.90%
69.10%
line
$12,199.60
$1,830.00
15.00%
30.00%
70.00%
CC
$  2,099.13
$   418.00
19.90%
34.90%
65.10%
loan
$  1,846.53
$   370.00
20.04%
35.04%
64.96%
loan
 Enrolled Debt
Settlement Amount
Percentage Paid by Consumer
Percentage Paid with Fee
Percentage Debt
Reduction
Type of Debt
$  1,010.05
$   101.01
10.00%
25.00%
75.00%
CC
$10,242.63
$1,515.00
14.79%
29.79%
70.21%
CC
$50,005.39
$7,501.00
15.00%
30.00%
70.00%
CC
$24,422.01
$3,665.00
15.01%
30.01%
69.99%
loan
$18,353.56
$5,500.00
29.97%
44.97%
55.03%
CC
 Enrolled Debt
Settlement Amount
Percentage Paid by Consumer
Percentage Paid with Fee
Percentage Debt
Reduction
Type of Debt
$  7,175.96
$1,435.19
20.00%
35.00%
65.00%
CC
$  2,612.85
$   655.00
25.07%
40.07%
59.93%
Loan
$18,504.40
$4,000.00
21.62%
36.62%
63.38%
CC
$28,986.74
$8,610.00
29.70%
44.70%
55.30%
CC
$11,274.29
$3,385.29
30.03%
45.03%
54.97%
CC
 Enrolled Debt
Settlement Amount
Percentage Paid by Consumer
Percentage Paid with Fee
Percentage Debt
Reduction
Type of Debt
$15,912.36
$2,400.00
15.08%
30.08%
69.92%
CC
$15,610.26
$3,000.00
19.22%
34.22%
65.78%
CC
$  8,204.14
$1,641.00
20.00%
35.00%
65.00%
Loan
$  8,267.84
$2,480.00
30.00%
45.00%
55.00%
CC
$47,274.37
$7,564.00
16.00%
31.00%
69.00%
Loan
 Enrolled Debt
Settlement Amount
Percentage Paid by Consumer
Percentage Paid with Fee
Percentage Debt
Reduction
Type of Debt
$  7,243.16
$   869.17
12.00%
27.00%
73.00%
CC
$  9,810.70
$1,200.00
12.23%
27.23%
72.77%
CC
$  6,134.78
$1,230.00
20.05%
35.05%
64.95%
Loan
$20,730.85
$4,270.00
20.26%
35.26%
64.74%
CC
$26,636.96
$5,400.00
20.27%
35.27%
64.73%
CC
 Enrolled Debt
Settlement Amount
Percentage Paid by Consumer
Percentage Paid with Fee
Percentage Debt
Reduction
Type of Debt
$15,619.62
$2,492.95
15.96%
30.96%
69.04%
CC
$  3,853.37
$   771.00
20.01%
35.01%
64.99%
Loan
$17,417.37
$3,600.00
20.67%
35.67%
64.33%
CC
$     647.00
$   150.00
23.18%
38.18%
61.82%
Loan
$  4,300.62
$1,502.00
34.93%
49.93%
50.07%
Loan
 Enrolled Debt
Settlement Amount
Percentage Paid by Consumer
Percentage Paid with Fee
Percentage Debt
Reduction
Type of Debt
$12,010.27
$2,041.74
17.00%
32.00%
68.00%
CC
$12,567.31
$3,180.00
25.30%
40.30%
59.70%
Loan
$12,872.26
$2,600.00
20.20%
35.20%
64.80%
CC
$11,312.02
$1,700.00
15.03%
30.03%
69.97%
CC
$  9,296.38
$2,500.00
26.89%
41.89%
58.11%
Loan
 Enrolled Debt
Settlement Amount
Percentage Paid by Consumer
Percentage Paid with Fee
Percentage Debt
Reduction
Type of Debt
$18,009.61
$2,701.00
15.00%
30.00%
70.00%
CC
$  1,368.00
$   220.00
16.08%
31.08%
68.92%
Retail
$10,976.95
$2,100.00
19.13%
34.13%
65.87%
CC
$18,019.47
$5,405.84
25.00%
40.00%
60.00%
Line
$  8,234.41
$2,058.60
30.00%
45.00%
55.00%
Loan
 Enrolled Debt
Settlement Amount
Percentage Paid by Consumer
Percentage Paid with Fee
Percentage Debt
Reduction
Type of Debt
$6,426.01
$1,200.00
18.67%
33.67%
66.33%
CC
$   769.00
$       0.00
  0.00%
15.00%
85.00%
Medical
$5,670.45
$1,417.61
25.00%
40.00%
60.00%
CC
$2,582.48
$   646.00
25.01%
40.01%
59.99%
CC
$4,043.13
$1,200.00
29.68%
44.68%
55.32%
Loan
 Enrolled Debt
Settlement Amount
Percentage Paid by Consumer
Percentage Paid with Fee
Percentage Debt
Reduction
Type of Debt
$15,231.45
$4,569.44
30.00%
45.00%
55.00%
CC
$  9,964.00
$1,940.80
19.48%
34.48%
65.52%
line
$  5,211.00
$1,175.32
22.55%
37.55%
62.45%
CC
$14,776.69
$3,400.00
23.01%
38.01%
61.99%
CC
$  1,392.74
$   418.00
30.01%
45.01%
54.99%
Furniture
 Enrolled Debt
Settlement Amount
Percentage Paid by Consumer
Percentage Paid with Fee
Percentage Debt
Reduction
Type of Debt
$4,435.33
$1,000.00
22.55%
37.55%
62.45%
Loan
$4,445.20
$779.00
17.52%
32.52%
67.48%
CC
$11,095.86
$3,328.00
29.99%
44.99%
55.01%
CC
$10,832.62
$4,000.00
36.93%
51.93%
48.07%
Line
$14,261.24
$5,704.50
40.00%
55.00%
45.00%
CC
 Enrolled Debt
Settlement Amount
Percentage Paid by Consumer
Percentage Paid with Fee
Percentage Debt
Reduction
Type of Debt
$12,772.85
$1,916.00
15.00%
30.00%
70.00%
CC
$14,642.65
$5,200.00
35.51%
50.51%
49.49%
CC
$15,703.15
$5,610.00
35.73%
50.73%
49.27%
CC
$10,218.97
$3,900.00
38.16%
53.16%
46.84%
CC
$13,240.00
$5,300.00
40.03%
55.03%
44.97%
loan
 Enrolled Debt
Settlement Amount
Percentage Paid by Consumer
Percentage Paid with Fee
Percentage Debt
Reduction
Type of Debt
$2,285.44
$500.00
21.88%
36.88%
63.12%
loan
$5,493.45
$1,373.26
25.00%
40.00%
60.00%
loan
$1,550.68
$400.00
25.80%
40.80%
59.20%
loan
$6,421.40
$1,926.42
30.00%
45.00%
55.00%
CC
$8,503.69
$2,320.00
27.28%
42.28%
57.72%
CC
 Enrolled Debt
Settlement Amount
Percentage Paid by Consumer
Percentage Paid with Fee
Percentage Debt
Reduction
Type of Debt
$12,102.04
$2,420.41
20.00%
35.00%
65.00%
CC
$4,177.00
$1,000.00
23.94%
38.94%
61.06%
CC
$13,800.60
$3,450.15
25.00%
40.00%
60.00%
CC
$4,881.52
$1,500.00
30.73%
45.73%
54.27%
loan
$8,418.23
$3,480.00
41.34%
56.34%
43.66%
loan
 Enrolled Debt
Settlement Amount
Percentage Paid by Consumer
Percentage Paid with Fee
Percentage Debt
Reduction
Type of Debt
$17,714.82
$2,125.77
12.00%
27.00%
73.00%
CC
$10,203.08
$1,555.00
15.24%
30.24%
69.76%
CC
$3,453.75
$690.75
20.00%
35.00%
65.00%
CC
$40,442.32
$10,062.34
24.88%
39.88%
60.12%
CC
$5,653.91
$1,500.00
26.53%
41.53%
58.47%
CC
 Enrolled Debt
Settlement Amount
Percentage Paid by Consumer
Percentage Paid with Fee
Percentage Debt
Reduction
Type of Debt
$4,417.57
$441.76
10.00%
25.00%
75.00%
CC
$18,746.22
$3,500.00
18.67%
33.67%
66.33%
CC
$21,283.67
$4,245.00
19.94%
34.94%
65.06%
CC
$2,237.00
$478.21
21.38%
36.38%
63.62%
CC
$9,241.41
$2,306.00
24.95%
39.95%
60.05%
CC
 Enrolled Debt
Settlement Amount
Percentage Paid by Consumer
Percentage Paid with Fee
Percentage Debt
Reduction
Type of Debt
$18,337.94
$3,880.00
21.16%
36.16%
63.84%
CC
$11,450.53
$4,000.00
34.93%
49.93%
50.07%
loan
$5,499.00
$1,600.00
29.10%
44.10%
55.90%
CC
$23,007.47
$8,000.00
34.77%
49.77%
50.23%
CC
$3,400.62
$950.00
27.94%
42.94%
57.06%
CC
 Enrolled Debt
Settlement Amount
Percentage Paid by Consumer
Percentage Paid with Fee
Percentage Debt
Reduction
Type of Debt
$9,393.00
$1,100.00
11.71%
26.71%
73.29%
CC
$15,318.19
$3,829.55
25.00%
40.00%
60.00%
CC
$11,201.70
$3,060.00
27.32%
42.32%
57.68%
loan
$2,495.85
$718.54
28.79%
43.79%
56.21%
CC
$6,039.61
$1,810.00
29.97%
44.97%
55.03%
CC
 Enrolled Debt
Settlement Amount
Percentage Paid by Consumer
Percentage Paid with Fee
Percentage Debt
Reduction
Type of Debt
$1,986.64
$512.45
25.79%
40.79%
59.21%
CC
$2,424.73
$700.00
28.87%
43.87%
56.13%
CC
$5,237.08
$1,571.00
30.00%
45.00%
55.00%
CC
$6,400.48
$1,970.00
30.78%
45.78%
54.22%
CC
$2,024.47
$700.00
34.58%
49.58%
50.42%
CC
 Enrolled Debt
Settlement Amount
Percentage Paid by Consumer
Percentage Paid with Fee
Percentage Debt
Reduction
Type of Debt
$7,677.14
$1,535.43
20.00%
35.00%
65.00%
CC
$4,059.33
$811.87
20.00%
35.00%
65.00%
CC
$11,317.33
$2,264.00
20.00%
35.00%
65.00%
CC
$2,679.41
$669.95
25.00%
40.00%
60.00%
CC
$5,578.30
$1,400.00
25.10%
40.10%
59.90%
CC
 Enrolled Debt
Settlement Amount
Percentage Paid by Consumer
Percentage Paid with Fee
Percentage Debt
Reduction
Type of Debt
$22,462.60
$0.00
0.00%
15.00%
85.00%
CC
$15,029.57
$2,650.00
17.63%
32.63%
67.37%
CC
$2,168.00
$500.00
23.06%
38.06%
61.94%
CC
$6,060.82
$1,400.00
23.10%
38.10%
61.90%
CC
$19,281.00
$5,000.00
25.93%
40.93%
59.07%
CC
 Enrolled Debt
Settlement Amount
Percentage Paid by Consumer
Percentage Paid with Fee
Percentage Debt
Reduction
Type of Debt
$6,171.64
$862.00
13.97%
28.97%
71.03%
CC
$15,613.50
$3,112.00
19.93%
34.93%
65.07%
CC
$10,648.60
$3,000.00
28.17%
43.17%
56.83%
CC
$1,749.00
$509.00
29.10%
44.10%
55.90%
Jewelry
$20,248.26
$6,000.00
29.63%
44.63%
55.37%
CC
 Enrolled Debt
Settlement Amount
Percentage Paid by Consumer
Percentage Paid with Fee
Percentage Debt
Reduction
Type of Debt
$2,550.90
$700.00
27.44%
42.44%
57.56%
CC
$3,570.15
$1,071.04
30.00%
45.00%
55.00%
CC
$1,061.33
$319.00
30.06%
45.06%
54.94%
CC
$6,321.72
$2,000.00
31.64%
46.64%
53.36%
CC
$1,876.34
$650.00
34.64%
49.64%
50.36%
CC
 Enrolled Debt
Settlement Amount
Percentage Paid by Consumer
Percentage Paid with Fee
Percentage Debt
Reduction
Type of Debt
$2,627.12
$600.00
22.84%
37.84%
62.16%
Loan
$5,295.12
$1,323.73
25.00%
40.00%
60.00%
CC
$4,786.74
$1,300.00
27.16%
42.16%
57.84%
CC
$10,998.99
$2,999.00
27.27%
42.27%
57.73%
CC
$7,054.79
$2,000.00
28.35%
43.35%
56.65%
CC
 Enrolled Debt
Settlement Amount
Percentage Paid by Consumer
Percentage Paid with Fee
Percentage Debt
Reduction
Type of Debt
$8,252.66
$1,300.00
15.75%
30.75%
69.25%
CC
$11,272.20
$2,820.00
25.02%
40.02%
59.98%
Loan
$11,761.94
$3,500.00
29.76%
44.76%
55.24%
CC
$9,935.88
$3,200.00
32.21%
47.21%
52.79%
CC
$18,960.03
$6,636.00
35.00%
50.00%
50.00%
CC
 Enrolled Debt
Settlement Amount
Percentage Paid by Consumer
Percentage Paid with Fee
Percentage Debt
Reduction
Type of Debt
$2,454.98
$653.00
26.60%
41.60%
58.40%
Medical
$1,501.02
$427.85
28.50%
43.50%
56.50%
Retail CC
$3,115.02
$934.50
30.00%
45.00%
55.00%
CC
$6,226.54
$1,868.00
30.00%
45.00%
55.00%
CC
$8,756.00
$2,800.00
31.98%
46.98%
53.02%
CC
 Enrolled Debt
Settlement Amount
Percentage Paid by Consumer
Percentage Paid with Fee
Percentage Debt
Reduction
Type of Debt
$19,093.10
$2,750.00
14.40%
29.40%
70.60%
CC
$8,972.99
$1,500.00
16.72%
31.72%
68.28%
CC
$6,036.67
$1,155.00
19.13%
34.13%
65.87%
CC
$4,582.01
$1,000.00
21.82%
36.82%
63.18%
Loan
$17,625.00
$4,450.00
25.25%
40.25%
59.75%
Loan
 Enrolled Debt
Settlement Amount
Percentage Paid by Consumer
Percentage Paid with Fee
Percentage Debt
Reduction
Type of Debt
$20,116.55
$4,600.00
22.87%
37.87%
62.13%
CC
$5,974.51
$1,400.00
23.43%
38.43%
61.57%
CC
$12,191.00
$1,400.00
24.00%
39.00%
61.00%
CC
$14,639.94
$4,000.00
27.32%
42.32%
57.68%
Loan
$13,510.17
$3,974.00
29.41%
44.41%
55.59%
Loan
 Enrolled Debt
Settlement Amount
Percentage Paid by Consumer
Percentage Paid with Fee
Percentage Debt
Reduction
Type of Debt
$4,174.54
$800.00
19.16%
34.16%
65.84%
CC
$5,843.00
$1,168.00
19.99%
34.99%
65.01%
Loan
$4,987.20
$1,175.00
23.56%
38.56%
61.44%
CC
$14,349.00
$4,000.00
27.88%
42.88%
57.12%
CC
$18,011.26
$5,100.00
28.32%
43.32%
56.68%
CC
$23,546.25
$7,068.00
30.02%
45.02%
54.98%
Loan
 Enrolled Debt
Settlement Amount
Percentage Paid by Consumer
Percentage Paid with Fee
Percentage Debt
Reduction
Type of Debt
$13,049.82
$3,000.00
22.99%
37.99%
62.01%
CC
$11,409.18
$2,800.00
24.54%
39.54%
60.46%
CC
$4,972.88
$1,229.00
24.71%
39.71%
60.29%
CC
$6,459.48
$1,678.00
25.98%
40.98%
59.02%
CC
$12,351.30
$3,500.00
28.34%
43.34%
56.66%
CC
 Enrolled Debt
Settlement Amount
Percentage Paid by Consumer
Percentage Paid with Fee
Percentage Debt
Reduction
Type of Debt
$3,742.77
$935.00
24.98%
39.98%
60.02%
CC
$7,906.09
$2,000.00
25.30%
40.30%
59.70%
Loan
$8,495.71
$2,200.00
25.90%
40.90%
59.10%
CC
$13,265.17
$3,582.00
27.00%
42.00%
58.00%
CC
$11,850.00
$3,200.00
27.00%
42.00%
58.00%
CC
 Enrolled Debt
Settlement Amount
Percentage Paid by Consumer
Percentage Paid with Fee
Percentage Debt
Reduction
Type of Debt
$5,095.19
$1,018.05
19.98%
34.98%
65.02%
CC
$14,931.50
$3,450.00
23.11%
38.11%
61.89%
CC
$13,819.18
$3,454.00
24.99%
39.99%
60.01%
Loan
$9,419.00
$2,354.75
25.00%
40.00%
60.00%
Loan
$20,176.97
$5,450.00
27.01%
42.01%
57.99%
CC
 Enrolled Debt
Settlement Amount
Percentage Paid by Consumer
Percentage Paid with Fee
Percentage Debt
Reduction
Type of Debt
$3,116.00
$600.00
19.26%
34.26%
65.74%
CC
$6,026.85
$1,386.18
23.00%
38.00%
62.00%
CC
$7,947.96
$2,100.00
26.42%
41.42%
58.58%
Loan
$14,885.51
$4,470.00
30.03%
45.03%
54.97%
CC
$14,096.56
$4,934.00
35.00%
50.00%
50.00%
CC
 Enrolled Debt
Settlement Amount
Percentage Paid by Consumer
Percentage Paid with Fee
Percentage Debt
Reduction
Type of Debt
$3,637.73
$700.00
19.26%
34.26%
65.74%
CC
$3,256.89
$762.00
23.40%
38.40%
61.60%
Line
$3,351.89
$854.00
25.48%
40.48%
59.52%
CC
$4,434.45
$1,200.00
27.06%
42.06%
57.94%
CC
$10,810.61
$3,243.18
30.00%
45.00%
55.00%
CC
"*Settlements shown are examples of past performance, which are not intended to be a guarantee of future settlement results. Results will vary depending on one's ability to save sufficient funds, actual creditors of an individual and creditor negotiations. "

https://debtmerica.com/wp-content/uploads/2009/08/sample-settlement.jpg
691
570
Debtmerica
https://debtmerica.com/wp-content/uploads/2015/05/debtmerica-relief.png
Debtmerica
2009-08-05 19:10:40
2009-08-05 19:10:40
Top Debt Settlements