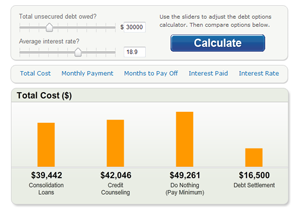 Compare Your Options
There are many options when it comes to addressing your debt problems, and now you can compare them with Debtmerica's Interactive Debt Options Calculator.
Our easy to use debt options calculator, allows you to take a look at debt settlement and how it compares against other options such as credit counseling, debt consolidation or minimum payments. You're able to compare Total Cost, Monthly Payment, Months to Pay Off, Interest Paid, and Interest Rate for each option in one easy to read interface. You're also able to adjust your total debt and average interest rates to tailor our results to your situation.
Try out Debtmerica's Debt Options Calculator today and then speak with one of our professionally certified debt consultants to get started on your future free from debt!
https://debtmerica.com/wp-content/uploads/2010/05/debt-calculator-ss.png
214
300
Debtmerica
https://debtmerica.com/wp-content/uploads/2015/05/debtmerica-relief.png
Debtmerica
2010-05-13 21:42:47
2010-05-13 21:42:47
Introducing Debtmerica's Debt Options Calculator